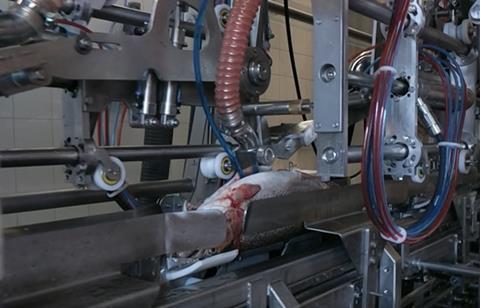 This year Kroma A/S presented several types of improved and new generation equipment that were seriously thought through to solve problems with waste, maintenance of equipment and at the same time aimed to get profit from the whole fish processing site.
As the CEO Mr. Ivan Kristensen said:
"Thinking globally is the key to understand all the sensitive aspects of nowadays obstacles occurred in aquaculture industry. Therefore, when we design machinery for fish processing sites, we always put effort in making the hygiene and technologically advanced equipment that is effortless in use and cleaning. Yet it must provide high yields with solution for by-products that in return gets profit from both product and the waste."
SILAGEMASTER is one of a brand-new addition to Kroma A/S product scope. It is designed to utilize by-products from the processing line or dead fish from aquaculture sites. An effective waste handling system that without a doubt establish customers, partners, and visitors' positive impression. This equipment can properly process fish waste into an easy storable silage that afterwards can be refined into additives for various purposes. For instance, ingredients for the feed industry can be for pet, fish, poultry, pork, while ingredients for technical purpose are biogas, fertilizer, and biofuel.
Mr. Jesper B. Svendsen is Kroma A/S specialist who pointed out the reasons behind all the attraction that SILAGEMASTER received since its launch:
"By-product handling plays a key role in the management of marine resources that reduces the environmental footprint. At the same time silage processing is an efficient solution to stabilize the by-products for storage and secure its value. What can be more satisfying than to have a no waste policy at the fish processing plant, and on the top of it to get profit from both the primary product and its waste?!"
However, for the Aquaculture sites the silage processing of a dead fish is not a profit, in a sense of a financial value, but an efficient solution to optimize the biosecurity by reducing the risk for undesirable bacteria to spread. That is in many ways the most valuable matter in a fish farming industry. Hence, sustaining the seafood sector growth by limiting its environmental footprint is a goal for fish processing sites to strive to in the nearest future.
Consequently, Kroma A/S NEW additions to the Aqua industry are great achievements of the year that will exceed fish farmers expectations.
Rævevej 22, Skive, DK-7800, Denmark

Websites
We are not responsible for the content of external sites