Hooks designed for connecting gill net.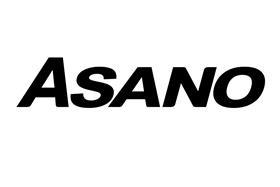 ASANO develops many types of purse seine fittings, and the AK Hook Type G is a new attempt for gill net fittings.
Since its debut in 2021, AK Hook Type G has gained a good reputation as an ideal gill net fitting. A local fisherman in the U.S. favorably commented that this product provided good usability. This is more than just a hardware for rigging in the gill net fishing!
Various functions have been incorporated by taking intended purposes into account.
Assumed location of use
AK Hook Type G can be used at rigging location of a gill net as shown in the illustration below.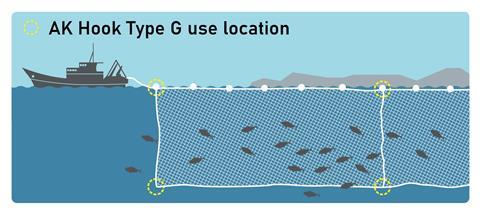 Design for the ideal gill net fitting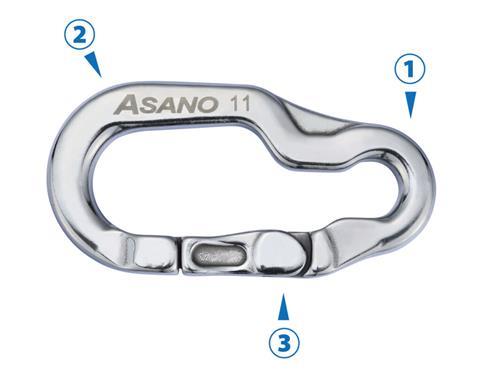 1. Form with less corners and more curves
The inner edge of the main body has a curved surface that reduces damage to ropes. In addition, the entire body is round, which prevents it from standing up on the reel and helps facilitate easy storage of the net when it is wound up.
2. Durable structure made possible only by casting Maximizes the benefits of castings, which are metals that can be processed freely.
The structure is optimized for actual applications, such as thickening the part where loads are applied, rather than a body of uniform thickness made from metal wire.
In addition, special stainless steel materials with superior abrasion and corrosion resistance are used.
3. Large diameter pin with improved working load limit
The pin to secure the arm is φ4.5 mm, which is larger than conventional AK Snap Hook.
This, together with the strength of the main body, contributes to improvement of the working load limit.