Asano's legacy valued on the world's oceans.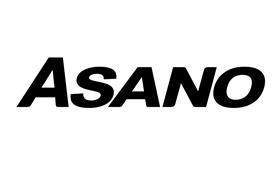 Auto shackles have been developed to be used to connect a net and rings (purse rings) at the bottom of the net for purse seine fishing, providing two functions that are usually conflicting: "secure rigging" and "quick release".
The simple mechanism of a gate that can easily be opened by inserting a sharp tool such as a spike into the hole in the body has gained a good reputation.
This is a long selling product that has been on the market for over 20 years. Now, they come in a variety of types such as Type II, Type IIS, and Type III, Type Ⅳ and are used in a range of different fields.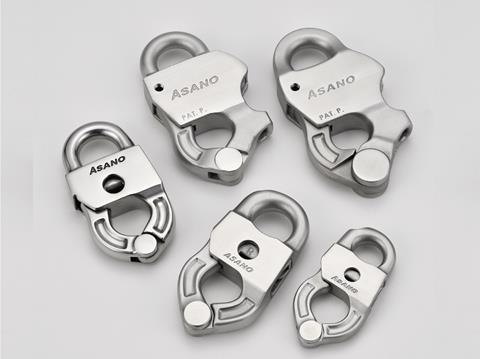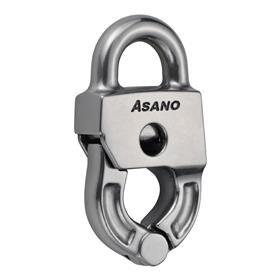 Line-up 1: Auto Shackle (basic type)
It all started from this product.
This basic but cutting-edge model, the Auto shackle, boasts tremendous support even today, more than 20 years after the product first went on sale.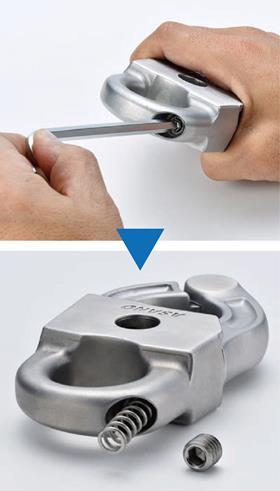 ---
Line-up 2: Auto Shackle Type Ⅲ
Auto Shackle Type III has new design that allows spring replacement to further extend product life. With the Auto Shackle (basic type), sometimes the entire main body of the shackle had to be replaced because the internal spring to open the gate had deteriorated with age despite there being absolutely nothing wrong with the main body of the shackle.
Asano continued to repeatedly review and make improvements to the shackle and was able to construct it in such a way that allows the spring to be replaced so that you can continue to enjoy using the product you bought for a long time. The spring can now be replaced by removing the screw on the top of the shackle with a hexagon wrench.
View the Autoshackle Type 3 product video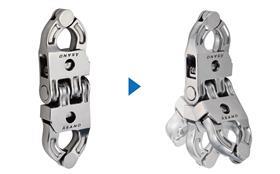 ---
Line-up 3: Double Auto Shackle
Double Auto Shackle combines two Auto Shackles, with gates at both ends to ensure smooth connecting and releasing. The shackles are connected by a φ16 shaft that allows the Double Auto Shackle to bend freely, without sacrificing durability, to reduce undue load during use.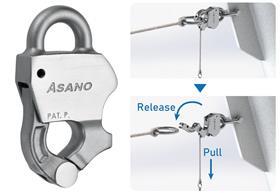 ---
Line-up 4: Auto Shackle Type Ⅱ and ⅡS
The key feature of Auto Shackle Type Ⅱ and Auto Shackle Type ⅡS is its release operation. By pulling a rope attached to its body, you can open the gate instantly and easily.
Type ⅡS is an upgraded version with improved durability and impact-resistance that is designed to be used for heavier loads.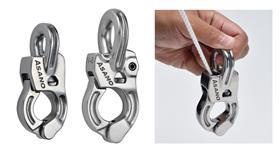 ---
Line-up 5: Auto Shackle Type Ⅳ and Ⅳ-B
Auto Shackle Type Ⅳ and Auto Shackle Type Ⅳ-B are designed for use with aquaculture nets. The gate can be released by pulling a rope attached to the main body from above the surface of the sea, reducing the amount of underwater operation necessary.