Booking is now open for the Icelandic Fisheries Conference. Delegates can save 15% by booking now!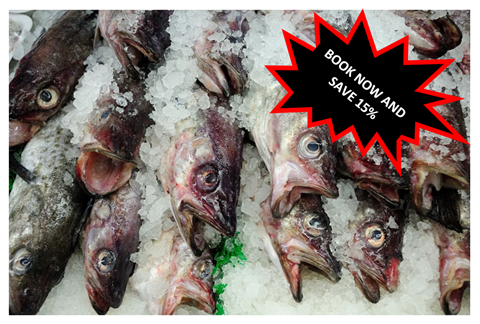 Fish Waste for Profit, now in its 2nd year, aims to provide fisheries and processing professionals form the international community with the latest information on fish waste reutilisation from the world pioneers in Iceland.
A delegate place includes conference attendance, full documentation in electronic format, lunch and refreshments throughout the conference and free entry into the IceFish Exhibition for all three days. It also includes an invitation to the Awards reception on September 13.
Dedicated networking time during coffee and lunch breaks gives you the opportunity to meet with fellow attendees outside of presentation time and discuss issues raised during the sessions in a relaxed environment. The Icelandic Fisheries Conference represents a select group of around 100 individuals in the fish waste reuse sector allowing intimate networking time perfect for making new connections.
The Icelandic Fisheries Conference is the perfect place to meet with key industry stakeholders, investors and fellow professionals looking to move into the fish waste reutilisation sector.
Booking is now open and for a limited time only, you can benefit from a 15% discount on delegate places when you book online via the website, using the booking form or over the phone. This means a delegate place at Fish Waste for Profit will cost just £140.25.
Book now to take advantage of this exclusive, limited time offer!
If you require any more information about Fish Waste for Profit, don't hesitate to get in touch with the Events team on +44 1329 825335 or email info@icefish.is.