It's estimated that the equivalent of 10 million tonnes of fish is wasted annually. And accounting for between 3 and 8% of every fish, the skin is a structural material that's full of protein and lipids that offers plenty of untapped potential, said Alexandra Leeper, Head of Research and Innovation at the Iceland Ocean Cluster.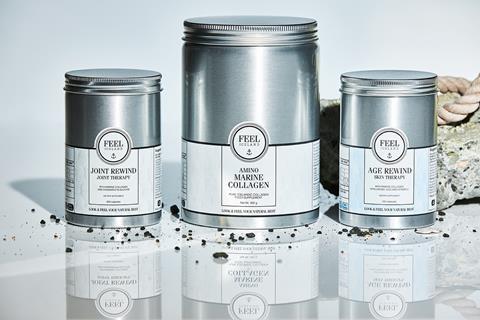 Setting the scene at the latest Fish Waste for Profit live webinar, Leeper disclosed that a growing number of companies around the world are looking at ways to generate greater value and circularity with fish skins. Among those leading the way within the Iceland cluster, Codland is one such business entity that has – through the strong connections that exist between the country's entrepreneurial and research communities – established that collagen and gelatin can be extracted from the skin of its iconic Atlantic cod.
Collagen is a structural protein used in many products sold over the counter. When ingested, it not only provides dietary protein, it's also very beneficial to human joints, Leeper said.
"This idea of collagen really captured the imagination of the fisheries sector in Iceland and was invested in by four of the country's biggest fisheries companies. They have built a company called Marine Collagen Iceland, which is taking fish skins from species like Atlantic cod and haddock and extracting collagen from them.
"The powder has a value of US$20 per kg and can be used in lots of different things. For example, one of its applications is in high-end nutraceuticals, whereby it's purified and mixed with such things as amino acids. Not only is this pushing up the revenue from this material, the products also have high functional and social values."
Another company, Feel Iceland, is using marine collagen in some of its skin cleansing products, with some products achieving a price point of $120 per kg. It's also being increasingly used in soft and energy drinks.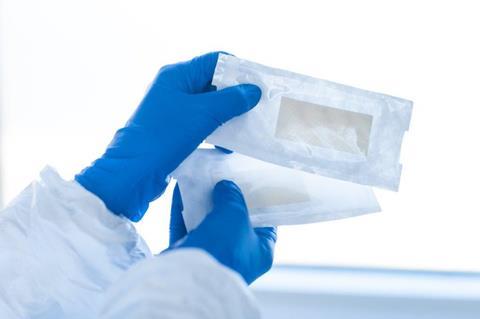 Big bucks
Collagen is far from the extent of fish skin's usefulness and current application. With Iceland's Nordic Fish Leather, the biggest fish skin tannery in the world, skins from many different fish species are being used to make leather goods, which in just tannin form are raising about $50 per kg.
"This is creating a very useful, functional textile that's used in many different fashion products. The fish skin tannery even has a contract with Gucci," Leeper said.
Then at the very extreme, there are ventures like Kerecis – one of two so-called "unicorn" companies in Iceland – that's taking the skin of specially selected Atlantic cod and processing them to make medical dressings.
When grafted onto damaged human tissue, such as a wound, these products recruit the body's own cells, which are in turn converted into living tissue. Particularly targeted at burns and diabetic sores, they help the healing process through the structure of the fish skin and the presence of omega- 3 polyunsaturated fatty acids.
These are, Leeper highlighted, United States Food and Drug Administration (FDA) -approved products that are sold and used in the US and Iceland – mainly by hospitals and the military, with the value of just one skin estimated at around $2,000.
"This is a really good example of how you can go from something that was once thrown out and wasted to something that has huge amounts of value," she said.
Beyond cod
While much of the focus in Iceland has been on cod skin utilisation because of the country's rich fishing history, there's also now a fast-growing domestic Atlantic salmon farming industry. Consequently, there's a rising number of products being made available to the market that are using the fatty acids from salmon skins, as well as leather goods.
"This is teaching us a lot about what can be done with other species and how fish skins can have huge amounts of value," said Leeper, who highlighted that the cluster is now also working with the Great Lakes St Lawrence Governors and Premiers group to explore the same potential with the Great Lakes whitefish.
"This is one of the most commercially important freshwater fish in North America. Some have been sent to Iceland and, with the research community here and important fish processing equipment companies like Marel and Curio, we're looking at the fish's skin to see what its potential is.
"Already, we've seen that the fish can be used to produce collagen – from both the scales and the skin – and we see lots of potential values in that. Likewise, we're working with Nordic Fish Leather to see how this species works in terms of tanning and leather production."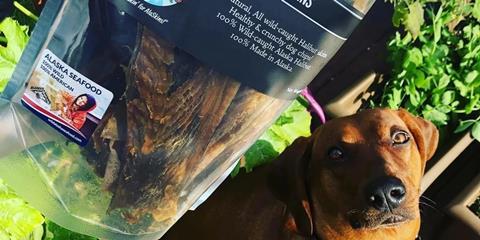 Canine commerce
Sara Erickson, Owner of AlaSkins, informed the webinar about the market opportunities that her company has tapped into through the delivery of a variety of natural dog treats – created through the simple processing of wild Alaska salmon, halibut and cod skins.
Since 2016, the Kenai Peninsula-based company has been collecting fish skins from processing plants for the manufacture of these single-ingredient products.
Erickson, who grew up in a commercial fishing family, explained that Americans spend approximately $5.6 billion per year on dog treats, while a further $5 billion is spent on vitamins that naturally occur in the company's products.
"The zero-waste culture started for me as a young girl, and realising the amount that we throw away – something that could be very nutritious. My thought was always to use it for pets, and at AlaSkins I think we've done a very good job in figuring out how to turn fish skins into dog treats.
"Our mission is to use all of the fish skins and find other ways to make dogs happy."
In this regard, Erickson also pointed out that Alaska's seafood export trade totals around 3 billion pounds (1.36 million tonnes) of seafood per year and this in turn entails a lot of waste or by-products.
"We are throwing away so much; an almost endless supply that we could use to make something great.
"As long as we have a commercial fishing industry and as long as we are catching fish, we have materials that are being thrown away. I want to capture that waste. There's so much more that I want to do; so much that I'm excited about," she said.
Green leather
In Canada, meanwhile, Tasha Nathanson, Founder and CEO of start-up 7 Leagues Leather, is aiming to soon launch the country's first fish leather tanner. The business will utilise the skins of wild Pacific fish species, while its tanning process will be vegetable-based.
Providing context, Nathanson said that with a fish fillet only accounting for around half of any whole fish, the remaining half is often wasted material.
As such, it represents lost economic value. Also lost is the potential positive impact on the people and communities that can use these materials, she said.
"In 2015, humans globally consumed around 150 million tonnes of filleted fish, which equates to 6 million tonnes of wasted skins. This could be made into fish leather to supply the sustainable fashion market – to people and companies that are buying such textiles and bio-materials."
Nathanson explained that while traditional leather is "a beautiful, high-value use" for waste skins from many animals in the food chain, it also has inherent problems.
Over 90% of leather produced today is made using chromium tanning, which is regarded as a non-renewable, toxic and environmentally-damaging process, she said, adding also that vegan leather "is not a solution" as it largely uses fossil-based compounds as binders and the end-product is not as durable.
Conversely, because of the "criss-cross" structure of fish skin, resultant leathers have approximately nine times the tensile strength of mammal leather.
7 League's solution, therefore, is to make high-quality, high-value ecological leather and leather goods from fish skins, Nathanson said. To do this, it has adopted a proprietary tanning process that doesn't use toxic chemicals. This was done in partnership with another Icelandic fish tanner. It has also entered into partnerships with First Nations in fisheries and forestry for the supply of its skins and its bark tannins.
She added that 7 League's production model is based on having micro-production located close to where the fish waste is being generated and then replicating that elsewhere.
"One of the things we say is wherever there is fish processing and the right kind of market we will be looking to have another 7 Leagues Leather. Our goal is definitely replication. We don't want to have one huge facility where people are flying fish skins to us – that just isn't environmentally-responsible.
"We're looking at a model like micro-breweries, where we make it public, urban and exciting. That's part of our model – to make it really public and get it out there."