Borgarplast ehf., in Iceland produces products by rotational molding out of polyethylene, some of which may come into contact with food.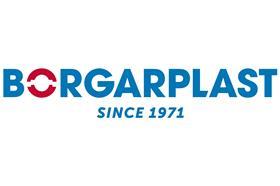 Examples of these products are insulated fish containers which we have been producing since 1986. We produce containers with two different types of insulation. On the one hand we have Polyurethan (PUR) which is a light material that provides excellent insulation qualities. On the other hand, we have Polyethylene (PE) insulation which is stronger and heavier than PUR and 100% recyclable.
All the raw materials used in the manufacturing of these products have their food approval certifications. The resins of polyethylene used in the production of the above-mentioned products fulfil the requirements on materials used for articles intended to come into contact with food. Only virgin material is used in the production.
At Borgarplast ehf., we take our role in environmental protection very seriously and therefore we have invested in a shredding machine that we use to re-granulate all waste Polyethylene from our production. All shredding is performed in-house at our premises in a factory approved to produce products that come into contact with food.
We use this recycled raw material in the production of several products for the building industry such as oil separators and septic tanks, products that get buried in the ground.
But we can also use a small percentage of this recycled raw material in the insulation of PE fish containers if our customers require it, and, if it meets food quality standards and the quality requirements of our customers. Recycled material is never used for surfaces that come into contact with food but is mixed with virgin material and used in the insulation of Polyethylene fish containers. All virgin material used is high quality Polyethylene approved for food production and that is the material recycled and used again in our products.
The PE containers are also 100% recyclable when their usability comes to an end, and they need to be discarded. This way they can be shredded, and the material re-used to produce other products from Polyethylene and there-by close the cycle.