Billed as the first plant of its kind to open in North America in at least 25 years, the new fishmeal processing facility in Warrenton, Oregon, in the Pacific Northwest, that's jointly-owned by Scoular, Da Yang Seafood and Bornstein Seafoods is set to come onstream in early 2023 and will focus on the upcycling of fish trimmings.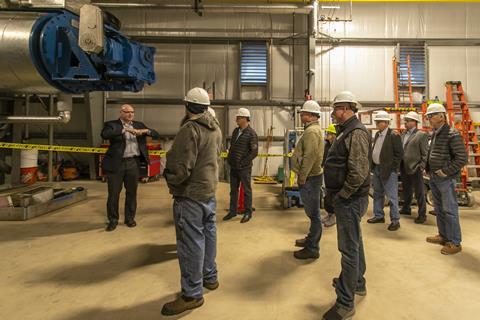 Utilising Da Yang and Bornstein trimmings generated by the two companies' nearby processing plants, the new US$17.5 million plant will produce high protein-content ingredients for use in the pet food and aquaculture markets. The project will be operated by Omaha, Nebraska-based Scoular, a $9 billion-plus agribusiness that ranks among the world's largest fishmeal and fish oil suppliers, with the facility's products marketed under Scoular's Encompass brand.
Located at the Port of Astoria's Airport Industrial Park, the plant provides the opportunity for the three companies to extend their business relationship (Scoular has sourced by-products from both Da Yang and Bornstein for many years) with a venture that both boosts the local economy and reduces the need to ship these resources to faraway markets, Chad Gauger, Vice President/General Manager of High Nutritional Value Proteins at Scoular told WF.
"Previously, that material was getting hauled off a good distance – to a meal plant in Canada. So we said let's build one that's just three miles away, which in itself gives a low carbon footprint, and let's each have a share in it," Gauger said. "The agreement was to create a fishmeal solution alongside the frozen product that makes sure every bit of fish waste is used locally.
"Protein is valuable. Generally, the world has a lot of carbs, but it needs these proteins, whether in frozen forms or meal forms, whether they are upcycled from human consumption or not. Fortunately, there are lots of ways to capture the protein that the world needs."
Green-focused
The move is a good fit for Scoular's sustainability strategy, which includes pillars focused on reducing the company's carbon footprint and responsible product sourcing, with the latter incorporating a new marine sustainability programme that incentivises fishmeal producers to implement long-term sustainability practices that exceed standard certification requirements.
In recent years, the 130-year-old company has traded between 250,000 and 300,000 tonnes of fishmeal per year into and out of about 30 countries around the world.
The partners are also on the same page when it comes to environmental commitments.
"We've set this plant up so that nothing is wasted, and nothing is going back into the environment. It's a zero-waste facility that's capturing every single bit of protein and discharging nothing. As such, we can all say that we're doing everything from a regulatory perspective and we're also we're dealing with our waste."
Responsible partner
Once it's up and running, the Warrenton facility will run two separate processing lines. One will predominantly work with hake (or Pacific whiting), while the second will deal with the by-products of wild-caught shrimp. Materials will be processed the moment they arrive at the plant, negating the need for cold-storage.
According to Gauger, the fishmeal and fish oil element of the plant is "pretty standard" in terms of its set up, but the water treatment capabilities set it apart.
"We're investing extra resources so the plant can fully treat the water. It's this zero-waste/zero-discharge approach that's definitely different from a typical fishmeal plant."
At the same time, the new plant houses a large biofiltration system (approximately the size of three large shipping containers). This has been installed to ensure the cleanliness of all the air leaving the plant post-processing.
"We're going to continue to invest in assets that support our customers in petfood and aquaculture," Gauger said. "We're excited about this. We want to make sure trimmings don't go to waste, whether we provide it in frozen formats or in protein meals. We'll continue to work with customers to make sure we're serving their needs."