Fish Waste for Profit 2019, the third edition of the Icelandic Fisheries Conference, will take place at the Grand Hotel Reykjavik in Reykjavik, Iceland, from the 10-11 April 2019.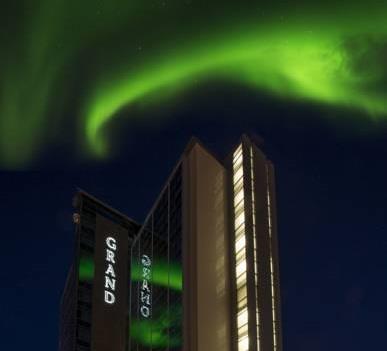 Situated in the heart of Reykjavik, the Grand Hotel Reykjavik is a four-star hotel ideal for business travellers and conference guests. To make your stay even simpler, a special room rate has been secured for those attending the conference.
Don't forget to book your accommodation
Organisers of this year's Fish Waste for Profit have secured a special rate at the Grand Hotel Reykjavik for speakers and delegates at this conference.
Book your room online today to avoid disappointment as availability is limited.
Visit our website for more information.
How to get to Reykjavik
Flying directly into Reykjavik's international airport, Keflavik, is possible from all major European and North American cities, including Helsinki, Barcelona, Glasgow, Oslo, Amsterdam, Paris, Berlin, New York, Orlando, Boston and Seattle – among others.
Flight times are typically only 3-4 hours from destinations within Europe and only 5-7 hours from North American cities, making Iceland closer than you might think! Iceland can also be reached by ferry, via the Smyril Line "Norræna", which operates from Denmark and the Faroe Islands and docks in Seydisfiordur in east Iceland.
To view the venue location on Google Maps, click here.
Fish Waste for Profit is a must attend event for owners and CEOs from the fishing, aquaculture and processing sectors, as well as those in the associated supply chain looking to discover new innovations and industry insights, and to develop relations with key industry stakeholders.
For more information contact the team on +44 1329 825335 or email info@icefishconference.com. Follow the event @icefishevent.