The 2nd Icelandic Fisheries Conference is taking place tomorrow in the upstairs conference room in Fifan Halls, Smarinn. There is still time to book your place! Visit the organiser's office to book. Önnur ráðstefna Íslensku sjávarútvegssýningarinnar, Fish Waste for Profit (Fiskúrgangur skilar hagnaði), sem haldin er í ráðstefnusal Fífunnar í Smáranum. Það er ennþá ráðrúm til að bóka þátttöku! Kíktu í heimsókn í skrifstofuna okkar í Smáranum til að skrá þig.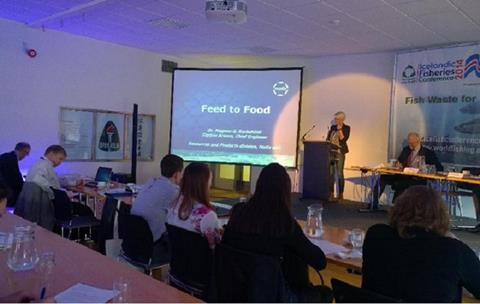 Delegate places include:
Full day of conference presentations
Complimentary entry into the Icefish Exhibition
Lunch and refreshments during the conference
Dedicated networking time
Full documentation in electronic format
All this for just £165 / €200 / 32.175 ISK.
Conference registration opens at 09:00 on 14th September and there will be a full day of conference presentations. This year's programme boasts experts in by-product reutilisation, including the Icelandic pioneers in this industry.
Join an international audience for what will be a conference packed with networking, knowledge sharing and innovation.
To book online in GBP and EUR visit www.icefishconference.com or call the organisers on +354 5313100. To book in ISK visit us at the organisers office or fill in the booking form here.
Innifalið:
Heils dags ráðstefna
Ókeypis aðgangur að Íslensku sjávarútvegssýningunni alla þrjá dagana.
Hádegismatur og veitingar meðan á ráðstefnunni stendur.
Sérstakar Tengslastundir.
Öll gögn og upplýsingar í rafrænu formi.
Allt þetta fyrir aðeins 32.175 krónur (£165 / €200)
Skráning á ráðstefnuna opnar klukkan 09:00 fimmtudaginn 14. september. Áhugaverð og fróðleg erindi verða allan daginn. Dagskráin í ár státar af sérfræðingum á sviði full- og endurvinnslu fiskúrgangs, þar á meðal mörgum af helstu frumkvöðlum á því sviði á Íslandi.
Slástu í hóp þátttakenda frá öllum heimshornum í ráðstefnu sem er troðfull af nýsköpun, þekkingarmiðlun og tengiliðum í faginu.
Til að bóka á Netinu í pundum eða evrum farið á vefslóðina www.icefishconference.com eða sláið á þráðinn í síma 5313100. Til að greiða í íslenskum krónum heimsækið okkur á skrifstofuna í Fífunni eða fyllið út skráningareyðublaðið hér.