Damen Shipyards Group has received an order for a Multi Cat 2712 from Norwegian owner Samba AS.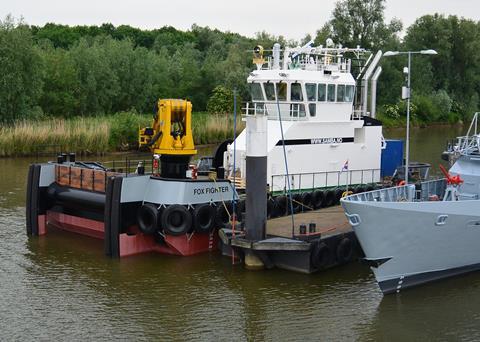 The vessel will be the first new build from Damen's range of workboats to operate in Norway's large aquaculture and oil spot market industry.
The contract was signed at the beginning of May and the vessel will be delivered from stock in June, by Damen Shipyards Hardinxveld in the Netherlands, after completing a number of client-specified customisations.
The Multi Cat 2712 will be the third in Samba's fleet of workboats. Samba's technical manager, Eirik Haugland, says, "This new vessel will be a beneficial addition to our growing fleet. She is rigged to carry out mooring and maintenance work in the aquaculture industry and will also be used in the oil industry's spot market. We are very pleased with the fast delivery of the Multi Cat 2712 from Damen, which included time for the vessel to be customised with our own specifications."
Damen sales manager in Stavanger, Remko Hottentot, said, "The Damen Multi Cat range is one of our most trusted and proven products, available for fast delivery from stock. And this order shows client-specific personal touches are no problem. The vessels are highly suited to the aquaculture market, for carrying out day-to-day work such as transport of personnel/equipment and maintenance."
Damen has also recently developed a number of specialised designs suited to fish farming, including the new Damen Utility Vessel (UV) Series. The UV2411 can aptly handle a wide variety of fish farming operations. In addition, Damen Shipyards Den Helder has recently developed vessels dedicated for the aquaculture market both multihull and monohull and with a 14.99m LOA.