The 2nd Icelandic Fisheries Conference, Fish Waste for Profit, is fast approaching and the sponsorship brochure has been released.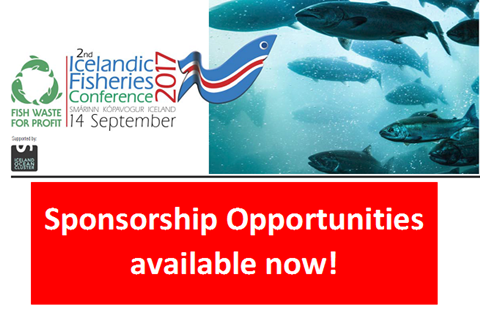 The conference will take place on September 14 2017 in Kopavogur, Iceland, and is expected to attract over 80 attendees from all over the world. Fish Waste for Profit runs alongside the IceFish Exhibition which welcomes over 15,000 attendees through its doors. The conference offers a more intimate setting in which to network and find out about the latest that the waste sector has to offer.
To view the sponsorship brochure, click HERE.
The option to sponsor the dedicated networking time during lunch and coffee breaks is one of the available packages, allowing the sponsor to display their branding in the break out areas where they will have ample opportunity to get to know attendees.
All attendees at the conference qualify for free entry into the IceFish Exhibition so the networking doesn't have to stop after the conference.
As an official sponsor of the conference you benefit from tailored web packages, promotion through enews articles sent to over 10,000 recipients and appearance in the pre-conference preview in our sister magazine, World Fishing and Aquaculture.
This year's conference programme will tackle the fish waste pyramid of value. If your company deals with this area of the processing industry and is looking to expand your contact base or meet new clients from overseas then this is the right event for you.
Promote your company to the right audience, in the right place, at the right time. Packages are limited and sell out fast so enquire for more information today. Call the events team on +44 1329 825335 or email jgwynn@mercatormedia.com