The early bird discount for Fish Waste for Profit will be closing on Wednesday 16th June, so make sure you book now to take full advantage of the 15% saving.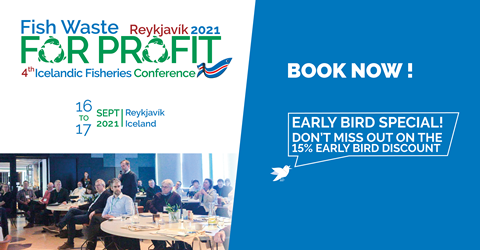 Fish Waste for Profit 2021 will feature industry experts from across Europe, including speakers from MATIS and the IFFO in the keynote panel.
This year the conference is all about Transforming the Blue Economy to 100% Green. If you want to know more about Striving towards 100% utilisation for different species (Shrimp, Salmon and Cod), it is the place to be as confirmed speakers include Ole Mejlholm, Team leader, Corporate Quality, Royal Greenland and Donna Fordyce, Chief Executive, Seafood Scotland.
Want to know more about investment opportunities?
Join Erlingur Guðleifsson, Engineer, MBA Programme and Dag Sletmo, Senior Vice President, DMB. As they take part in a panel discussion looking at the funding available to companies who want to turn the blue economy 100% green.
Maybe you want to know more about who is pioneering by-product utilisation?
With experts from Bythos; Nofima; Sterner; Natural Resource Institute, Finland and Margildi Presenting their current work and research, you will not be disappointed.
Don't forget the delegate space also includes outstanding networking opportunities and entry into the Icelandic Fisheries Exhibition on day 2. Take a look at the provisional programme to see all of this year's sessions and confirmed speakers.
With this conference covering various topics, sessions and panel discussion, plus access to the Icelandic Fisheries Exhibition for only €395.25, make sure you book now before this generous offer ends.
Book today and benefit from a 15% discount by adding 'early' at the checkout (Until 16th June 2021. You only pay €395.25, saving you €69.75.
Online booking is available here alternatively, contact the team on +44 1329 825335 or email info@icefishconference.com.