The programme for this year's fish waste for profit includes both Icelandic and international speakers who will share their expertise on how to achieve 100% utilisation of the catch – from heads and bones, to skin and viscera. Á ráðstefnunni Fish Waste for Profit (Fiskúrgangur skilar hagnaði) er að finna bæði íslenska og erlenda ræðumenn sem deila þekkingu sinni á því hvernig hægt er að nýta aflann til fulls – fiskhausa og fiskbein, fiskroð og slóg.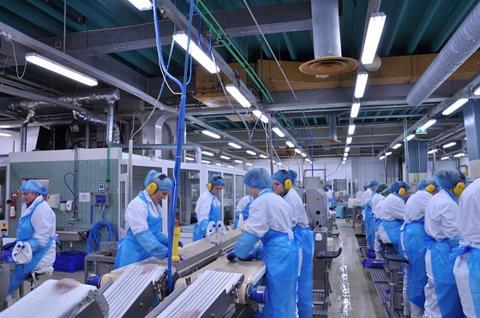 With nearly half of the fish we eat being discarded during processing, there is a wealth of opportunities available to maximise your return on investment throughout the production process.
What's on?
The conference programme features an opening session including a welcome address from the Conference Chairman, Thor Sigfusson of the Iceland Ocean Cluster, and Tomas Eirikson from Codland. The keynote address will be delivered by Hilmar Kjartansson from Kerecis.
Other sessions will focus on the large scale processing of fish by-products, the creation of niche products, and high intensity processing methods leading to high value products. and a unique panel discussion
The conference will include a unique panel discussion highlighting the importance of investment in by-product reuse initiatives. The panel will feature speakers with an investment background who have worked in the fisheries industry.
Click here to view the programme.
Recent additions to the programme
We are pleased to announce that Jon Birgir, Head of Sales & Marketing, Skaginn 3X and Karin Loft Eybye, Consultant at the Danish Institute of Technology have joined the programme in session 1. Jon Birgir will cover innovative processing technologies and Karin will speak about Danish crustacean sidestream reutilisation schemes.
Coffee and lunch breaks will give conference attendees the opportunity to network in a relaxed environment between sessions.
There is still time to book your place at the conference! Book online or call +354 5313100 for more information.
Þegar næstum helmingur af fiskinum sem við snæðum fer til spillis meðan á vinnslu hans stendur, opnast spennandi tækifæri til að auka verðmæti aflans með frekari nýtingu, og hámarka þannig hagnað þinn.
Hvað er á seyði?
Þór Sigfússon, stjórnarformaður Íslenska sjávarklasans, og Tómas Þór Eiríksson, framkvæmdastjóri Codlands, munu halda opnunarerindi í fyrstu málstofu ráðstefnunnar. Aðalræðumaður verður Hilmar Kjartansson, yfirmaður klínískra rannsókna og þróunar hjá Kerecis.
Í öðrum málstofum verður athyglinni m.a. beint að hvernig vinna má úr fiskúrgangi í stórum stíl, að þróun hágæðavöru úr fiskúrgangi og að nýjustu tækni við vinnslu úrgangs í því skyni að hanna verðmæta söluvöru.
Einnig verða einstakar pallborðsumræður þar sem lögð er áhersla á mikilvægi fjárfestinga í endur- og fullnýtingu fiskúrgangs. Þátttakendur í þeim hafa víðtæka reynslu af fjárfestingum í sjávarútvegi.
Smelltu hér til að sjá dagskránna í heild.
Nýjustu viðbætur við dagskrána
Það er okkur sönn ánægja að tilkynna að Jón Birgir Gunnarsson, markaðs- og sölustjóri Skaginn 3X, og Karin Loft Eybye, sérfræðingur við Dansk teknologisk institute, hafa bæst við dagskrá ráðstefnunnar. Jón Birgir mun fjalla um nýsköpun á sviði vinnslutækni og Karin mun fjalla um endurvinnslu fiskúrgangs í Danmörku.
Í kaffi- og matarhléum gefst þátttakendum tækifæri til að skapa sér nýja tengla í afslöppuðu umhverfi.
Það er ennþá ráðrúm fyrir þig til að bóka þátttöku í ráðstefnunni! Heimsóttu www.icefishconference.com eða hringdu í síma 5313100 til að fá frekari upplýsingar eða bóka.