A fisherman from the Isle of Col, in the Inner Hebrides, has told how his life was saved by wearing a Personal Flotation Device and is now urging all fishermen the importance of wearing such equipment at all times.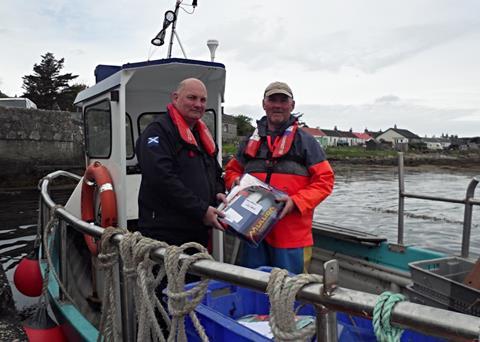 Dougie Brown was fishing off Coll on his vessel Seafarer III when he fell overboard after trying to clear a snagged rope. Luckily, he was wearing a Personal Flotation Device (PFD).
As soon as he slipped into the sea, Dougie's PFD automatically inflated and brought him back to the surface. The buoyancy provided by the PFD gave him time to concentrate his thoughts on his surroundings and he quickly spotted the leader buoy, managed to grab hold of the rope and pulled himself back to the boat.
Dougie is in no doubt that he wouldn't be here today if it wasn't for his PFD. "I am certain that without that buoyancy I wouldn't have had the presence of mind to look around and grab the buoy rope as my attention would otherwise have been engaged in frantically trying to remain afloat and losing vital body heat and energy in the process," he says.
Dougie had the foresight to grasp the message that the Scottish Fishermen's Federation (SFF) is currently promoting in its campaign to encourage every fisherman in Scotland to wear a life saving device - "wear your PFD; it will give you a second chance". Under the initiative, the SFF is offering every fisherman with the correct mandatory certification a free PFD.
Derek Cardno SFF Safety Officer says: "Dougie's story is one of many around the UK where fishermen have been given a second chance because they have been wearing a PFD. More and more fishermen are wearing a PFD while working on deck but there still remains much work to be done.
"As an industry we need to change and to make it safer. A safer industry will not only benefit those who are already in fishing but it will have a huge bearing when trying to attract young people into one of the most dynamic jobs in the world."