It is estimated that 43% of total UK fish and shellfish resources ends up as products for human consumption during the various stages of fish processing.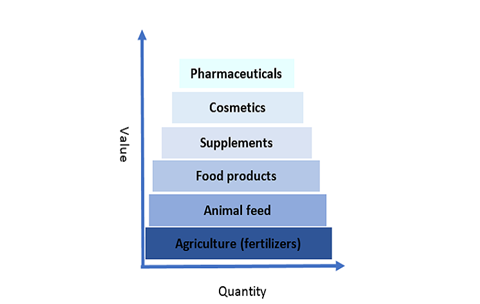 The estimated 43% of resource wastage represents a significant amount of potential profits which can be generated from waste products that would otherwise be thrown away, so why aren't more companies moving into the waste reuse sector?
Common waste products produced during fish processing include; heads, skin, bones, fins, gills and viscera, all of which are extremely protein rich which make them the ideal ingredient for fertilizers, animal feeds, biofuels, products for human consumption and even cosmetics.
Various innovative companies have taken the plunge into fish waste processing and have come up with a range of uses for discarded material.
Tidal Vision, of Juneau, Alaska, have been tanning salmon skin for use as leather for wallets and belts. They have also been working with shellfish exoskeletons in order to produce Chitosan, known for its antimicrobial properties.
Kerecis is another company taking part in the waste revolution. They have pioneered the creation of a treatment for leg ulcers and burns using fish skin. The fish skin is the closest possible substitute to human skin and its high protein omega 3 content promotes healing at a faster rate.
Feel Iceland have broken into the cosmetics industry with their range of skin care products rich in collagen found within discarded fish proteins. The founder of this company was inspired after discovering how much of a catch was thrown away and sought to find a valuable way to reuse these products.
The processing of fish by-products can be better explained using a pyramid of value which explains the varying quantities of value added product produced and the value that these products are worth.
To find out more about the companies leading the way in waste reutilisation book your place at the Fish Waste for Profit Conference, where innovative, industry leading companies will be in attendance.
For more information contact the events team on +44 1329 825335 or email jgwynn@mercatormedia.com.