The organisers of the Icelandic Fisheries Conference, Fish Waste for Profit, are pleased to announce the release of the provisional conference programme.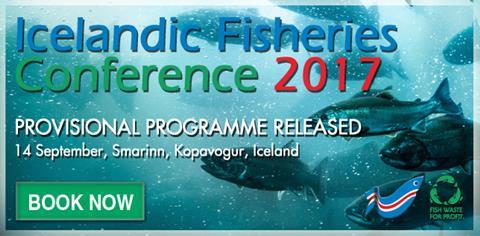 The conference will take place on 14 September 2017 in Smarinn, Kopavogur, Iceland, in association with the Icelandic Fisheries Exhibition, now on its 12th edition.
This year's Fish Waste for Profit programme will focus on understanding the fish waste pyramid of value and address the innovative uses for potentially discarded parts of the catch that can be turned into high value products for non-food sectors such as pharmaceutical and cosmetic.
The Icelandic Fisheries Conference is aimed at organisations looking to learn more about the fish waste pyramid of value and how to maximise ROI from their seafood products through new innovations and industry insights, whilst developing relations with key industry stakeholders.
The programme will include the following sessions:
Session one: Bottom to middle - Large scale processing of fish waste
Large scale upgrading of fish processing side streams at the bottom of the pyramid, David Tomas Davidsson, R&D, Codland
The creation of fish oils from fish processing side products, Snorri Hreggvidsson, CEO, Founder & Owner, Margildi
Session two: Niche products – uses for discarded fish skin
Tanning of fish skin for leather goods, Gunnsteinn Björnsson, CEO, Atlantic Leather
Session three: Rising to the top – High value products, high intensity processes
Food Supplements, Hólmfríður Sveinsdóttir Ph.D., Managing Director, Protis (Ice protein)
Cosmetics, Hrönn Margrét Magnúsdóttir, Co-Founder & CEO, Feel Iceland
Session Four: Fish Waste: A big business
The importance of investing in the waste reuse sector, Thor Sigfusson, Managing Director, Iceland Ocean Cluster
Investment in fisheries projects, Brynjólfur Bjarnason, Investor
Click here to view the provisional programme and all confirmed speakers.
If you would like more information about the conference or are interested in attending, speaking or sponsoring, don't hesitate to contact the events team on +44 1329 825335 or email info@icefish.is.