One of the largest fisheries surveillance operations in the world has come to a successful close today following 12 days of international co-operation to target illegal, unregulated and unreported fishing in the Pacific Ocean.
To date Operation Kurukuru has seen more than 300 vessels remotely sensed by satellites or sighted by ships or aircraft and 78 vessels boarded either at sea or in port.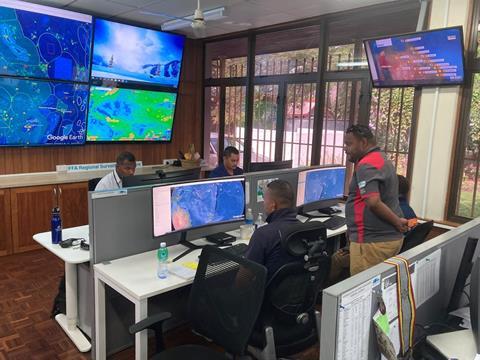 A surveillance operation to combat IUU fishing in the Pacific has concluded today Photo: FFA
"Thanks to the extensive effort on surveillance, inspections and emerging technology, we continue to verify the identity of vessels and assess compliance risks of vessels committing IUU fishing," said FFA surveillance operations officer, Cdr Lewis RAN.
Vessels of interest
"The operation detected a number of vessels of interest which remain under investigation," he added.
The operation included fifteen Guardian Class and Pacific Patrol Boats from Pacific nations working alongside five Australian Navy, French Navy and United States Coastguard vessels. Seven aircraft from the Pacific Island Forum Fisheries Agency (FFA), Pacific Quadrilateral (Australia, France, NZ and US) and regional partners provided air surveillance, as well as satellite surveillance and use of other nascent technologies.
"The sheer size of the area covered is enormous and underlines the importance and ongoing success of such a large-scale, co-operative initiative," said Allan Rahari, FFA director fisheries operations.
The operation worked with local and regional partners, including fisheries, police, defence forces and other maritime security agencies to survey the area which, at 23 million square kilometres, is three times the size of Australia.