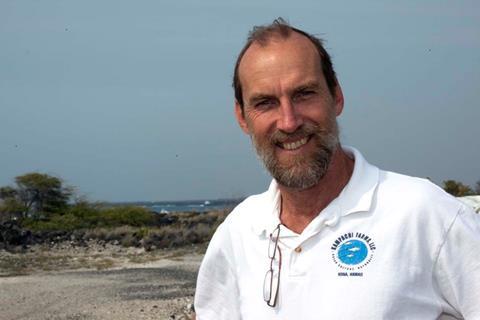 Neil is co-Founder and co-CEO of Kampachi Farms, LLC, based in Kona, Hawaii, and in La Paz, Mexico. Over the past two decades, Sims has led teams that have accomplished breakthroughs in pearl oyster culture, marine fish hatchery technology and open ocean mariculture systems, and offshore aquaculture legislation and regulation. Sims' Kona research team pioneered the Velella project, demonstrating two new concepts in U.S. Federal waters: untethered, open ocean 'drifter pens'; and "over-the-horizon aquaculture"™ with an unmanned net-pen operation in 6,000 ft of water, 6 Nm offshore.
Kampachi Farms is also currently raising funding for a more-conventional commercial farm in the Bay of La Paz, in Baja, Mexico, to culture Seriola rivoliana, or Cabo Kampachi™.
Neil is also founding President of the Ocean Stewards Institute – the open ocean aquaculture trade association - and sits on the Steering Committee for the Seriola-Cobia Aquaculture Dialogue (SCAD). He is also Vice-Chair of the Technical Advisory Group for the Aquaculture Stewardship Council.