Delegates at Fish Waste for Profit 2019 had the opportunity to attend a technical visit at Haustak, Iceland's largest fish drying facility on the final day of the conference.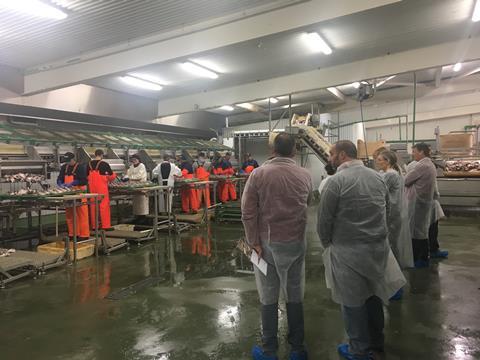 Founded in 1999, Haustak are specialists in dried fish products located on the Reykjanes peninsula. They chose this site due to its geothermal qualities which are used to heat the drying apparatus, ensuring that they are as efficient as possible with the energy they use.
The main products produced by Haustak are dried head and backbone of cod which are exported to Nigeria, their main market. The dried fish forms a part of the traditional Nigerian diet and is an essential source of protein, an estimated 40 million of the 180 million population of Nigeria include dried fish in their diet. A unique blend of spices and the addition of other nutrients in the form of vegetables provide the basis of the dried fish diet.
Haustak began by drying the fish out on racks outside in the traditional method, however factors such as odour and reliability of the environmental conditions mean that today operations have been moved inside their state-of-the-art facility. Initially, the whole fish was dried, however today it can be portioned and separated which makes the product more affordable for end users.
After this process is complete, the remaining raw materials are the intestines which are used for oil extraction which is then exported to France, and the remaining material is turned into fish meal, all as part of a vertically integrated process spread across different markets.
Following the tour of the Haustak drying facility, delegates heard from David Tomas Davidsson, the head of Research & Development at Codland who was able to further elaborate on their vertically integrated approach to 100% utilisation.
Davidsson explained the uses for the fillets, fish skin, heads, backbones and viscera by the companies that make up the group – Þorbjörn and Vísir. One area of particular importance to Codland at the moment is the production of marine collagen.
Collagen is most highly concentrated in the skin of the fish but that isn't the only interesting product to come from the skin. Research into increasing collagen yield has developed Codland's understanding of the interesting properties of fish gelatine which differ from the more popular porcine gelatine. Cold water fish must maintain the flexibility of their tissues at cold temperatures meaning that the gelatine remains soft at these temperatures and becomes liquid at room temperature giving potential for medicinal and gastronomic applications for this gelatine.
Codland's innovative and practical approach to 100% utilisation by vertically integrating their operations across different markets provide endless opportunities for maximising profit in the processing industry.
For more information, contact the events team on +44 1329 825335 or email info@icefishconference.com.