Here is the official roundup of day two of Fish Waste for Profit 2019 with details of what you missed during our packed two-day agenda.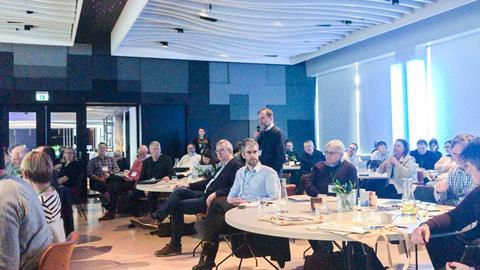 Session 4
Guus Pastoor, AIPCE President at the European Fish Processors Association, kicked off the second day of Fish Waste for Profit with a discussion on processing innovation. He pointed out that the projections are for a 100 million tonne seafood gap by 2030, as the FAO predicts that production is not expected to keep pace with demand as populations and the need for protein grow.
He also made reference to the fact that processors will need to invest in technology to extend shelf life and to reduce waste, both to improve sustainability was well as for commercial reasons.
Session 5
During the closing panel discussion covering the topic of 'Quality vs Quantity' presenters highlighted some unexpected problems faced by the industry, such as the difficulties experienced by Codland in working with fish offal. This is a challenging raw material to work with, which is compounded by the difficult nature of the regulatory environment.
"Regulations really need to change," said Codland's Davíð Tómas Davíðsson, commenting that this blanket regulation renders such production unviable. "There's over-strict regulation applied to working with fish innards," he said.
The consensus is that incentives are vital, and Davíð Tómas Davíðsson made the point that there is one price for fish liver, regardless of quality, providing no incentive for crews to take better care of the raw material. "We really want to be able to pay better prices for the best quality," he said.
Hörður Kristinsson from Matís also took part in this panel, stating that there is a strong interest in bringing seafood into the start-up world. People who fuelled the surge in growth in IT in the past are now increasingly putting finance into innovative food start-ups – but this has yet to filter through to the seafood sector.
"These people need to know about the potential in fish," he said. "We could be looking at a flood of investment. We have to think big. This can get a lot bigger, especially on an international basis. There is huge potential in pelagic species," he said.
Hrönn Margrét Magnúsdóttir echoed his point of view, arguing that to turn waste into money, it's key to listen to the market.
"If you're not making the products people are asking for, they're not going to sell and we're not going to gain anything. Listen to the trends, co-operate with researchers. If you have products that sell, then there's more to put back into research, and that closes the circle."
Conference close
The conference was closed by chairman Thór Sigfússon with the words that, while Iceland is at the forefront in utilisation of fish, "we can do better," and that the conference had managed to cover everything from fish offal to laxatives and cod castles.
He added that while Iceland has leading tech companies, the focus is still firmly on the loin of the fish, and he commented that there's a need for a leading player able to bring together the expertise for dealing with the complete spectrum.
This sets the conversation in motion for the 2020 edition of the Icelandic Fisheries Conference. Further details will be released later this year.
Want to know more?
Stay tuned for more stories including an exploration of the technical visit at Haustak, Iceland's largest fish drying facility, and keynote videos.
The presentations and papers from this year's conference will be made available to download at the end of this week. Those who attended will receive a username and password. If you missed the conference, you can buy the download online here.
The team would like to thank all those who attended and spoke at this year's event. It was a pleasure to see a room of almost 100 individuals passionate about 100% utilisation.