See who's going to Fish Waste for Profit 2017. The hotly awaited programme has now been released for the 2nd Icelandic Fisheries Conference, Fish Waste for Profit, 2017.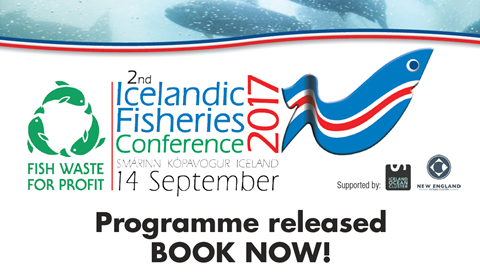 Fish Waste for Profit is an international, one day conference aimed at companies involved in the commercial fishing, Aquaculture and Processing sector. Now in its second edition, the conference will this time explore the fish waste pyramid of value, highlighting the various innovative uses that are making by-product reutilisation a viable method of increasing profits.
The 2017 conference will deliver topical seminars from world leaders in by-product reutilisation in Iceland and will focus on addressing the issues and techniques involved in the reutilisation of potentially discarded parts of the catch that can be turned into high value products for non-food sectors.
The programme is out now - learn from the best at this year's conference!
To view the programme click here.
Session titles include:
Large scale processing of fish by-products
Niche products – uses for discarded fish skin
Rising to the top – high value products, high intensity processes
Fish waste: a big business
To book, click here.
Book your place online at www.icefishconference.com. A limited number of sponsorship opportunities are still available for those who want to promote their brand to the right audience, in the right place at the right time.
Contact the team on +44 1329 825335 for more information.