Farmed Scottish salmon has a similar carbon footprint to chicken meat, a study by Scotland's Rural College (SRUC) has found, with the sector emitting 616,000 tonnes of CO2 equivalent in 2019.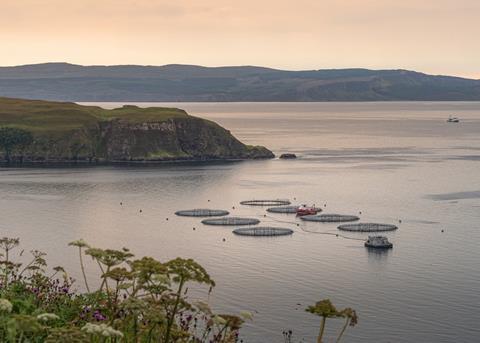 Researchers said while aquaculture emissions are modest, it is a rapidly growing sector with Scotland producing nearly 204,000 tonnes of Atlantic salmon in 2019 - the highest annual recorded level of production.
"However, to enable sustainable expansion of the sector, we need to understand its contribution to greenhouse gas emissions and how it can be mitigated," said Dr Michael MacLeod, who led the research, undertaken as part of the Scottish Government's Strategic Research Programme.
While farmed salmon's carbon footprint is lower than that of pork, beef or lamb, researchers said cost-effective ways to reduce the emission intensity of the industry could be identified to help meet Scotland's climate change targets.
These include improved genetics, health and feeding, including the substitution of high-carbon feed materials.
"While there is a lot more to sustainability than greenhouse gas emissions, they are an important part of the picture," continued Dr MacLeod. "We think that basic biophysical modelling approaches can help the sector to identify the most cost-effective improvement options, thereby enabling more sustainable growth."
Globally, the fish farming sector generated 263 million tonnes of carbon dioxide equivalent in 2017 - 0.49% of greenhouse gas emissions produced directly by human activity.