Fish skin has been making waves in both the pharmaceutical and fashion industries in recent years.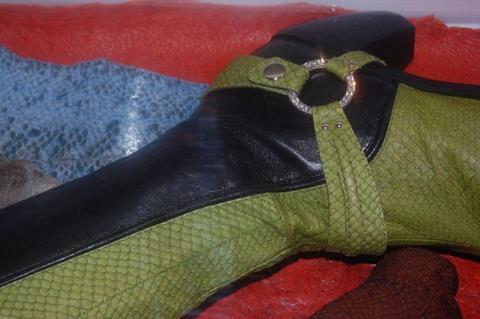 Innovative researchers have discovered that its protein rich properties make fish skin an ideal form of treatment for medical conditions. The skin can be used for tissue regeneration in severe medical cases such as burns and ulcers, and is simply transplanted onto the wound. Minor skin complaints such as eczema and psoriasis have also been successfully treated by proteins found in fish skin.
Fish skin is rich in collagen and fatty acids which aid the human body's natural healing process and despite its thin appearance, the skin is surprisingly durable. What's more it is readily available, making it an enticing alternative to porcine and human skin alternatives.
Another innovative use for fish skin involves the tanning of the skin to make it suitable for use as a leather for apparel.
There are many fish skins suitable for the tanning process, all of which produce a difference effect meaning a variety of styles can be offered to customers. The leather can be coloured and is durable enough to be used for shoes, handbags, accessories and clothing. What's more, it's an ecological way to wear leather as it is made out of discarded fish skin that has come from a sustainable fishery.
The Fish Waste for Profit programme will include a session entitled 'Niche products – uses for discarded fish skin'. If you would like to present on this topic, then don't hesitate to get in touch, alternatively if you are looking to break into this pioneering industry then join us at the conference and connect with high level professionals with the knowhow you need.
The conference takes place on 14 September 2017 in Kópavogur, Iceland. Delegate places are on sale now. For more information email jgwynn@mercatormedia.com or call +441329825335