The conference programme is packed with sessions from the Icelandic pioneers in fish processing by-product reutilisation, including individuals from the fashion and beauty industry. The Icelandic Fisheries Conference, Fish Waste for Profit, will take place on 14 September 2017 alongside the IceFish Exhibition, now in its 12th edition.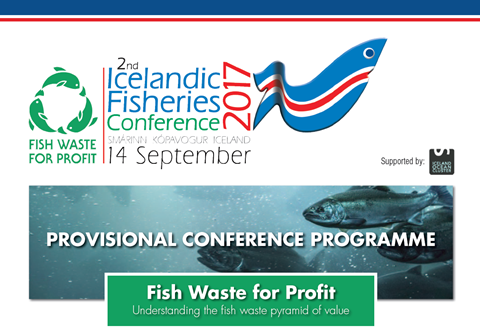 Feel Iceland, an Iceland based beauty company, are among these speakers; specialised in the creation of unique food supplements and skincare products that work together 'from the inside out and outside in', they are sure to make a great addition to the programme.
Feel Iceland, born out of observations of how much fish by-product is thrown away, seeks to create more value out of Iceland's healthy, precious fish. The founder, Hrönn Margrét Magnúsdóttir, will be presenting at the conference about the steps her company has taken in the creation of the natural products they offer.
Take advantage of the limited time 15% early bird discount.
Book now to hear more about Feel Iceland's journey to become a success story in the fish by-product reuse industry. Discount period ends 28 July, use code *early* at the checkout.
Another company capitalising on the more luxury uses for fish by-products is Atlantic Leather, an Icelandic tannery specialising in exotic leather from fish skin in addition to more traditional leathers.
They produce their fish leather from four different species; salmon, perch, wolffish and cod – each producing a queue grain and texture, available in a range of colours and finishes. Fish leather is by no means a new material for the textile industry, it is rooted in tradition as centuries ago Icelanders wore shoes made of wolffish skin.
The Icelandic Fisheries Conference is dedicated to filling its programmes with industry leaders – Atlantic Leather has been a leading enterprise in the development of fish leather; it is the only company in the world that makes wolffish leather and the only tannery in the world to successfully develop a way to make washable salmon leather.
If you want to hear from these pioneering industry leaders who are driving forces in this sector, whilst ensuring to also strive for sustainability, visit the Icelandic Fisheries Conference. 15% early bird discount is still available so book now.
A standard delegate place, including a full day conference, lunch and refreshment breaks will cost just £140 until 28 July, remember to enter the discount code *early* at the checkout.
To book, or for more information, contact the team on +44 1329 825335 or email info@icefish.is.