Icelandic seafood can double its value in the next 10 years, Permanent Secretary for the Ministry of Fisheries and Agriculture Benedikt Árnason told the Icelandic Fisheries Exhibition 2022.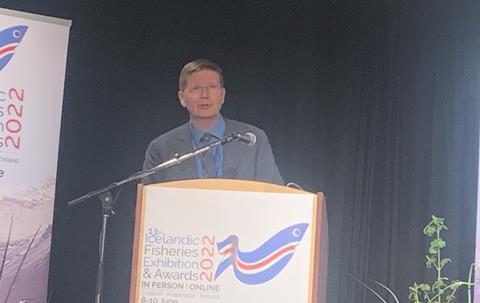 Opening IceFish's 13th edition, taking place 8-11 June in Kópavogur, Iceland, Árnason underlined how vital the seafood industry is for Iceland, both in terms of its importance to many fishing communities and to broader society.
"Through the collaboration of fishing and processing, Icelandic companies have developed the technologies and knowledge to enhance the competitiveness of the sector – continuously striving for increasing value and improving the utilisation of the blue resources."
Climate challenges in the sector are priorities that industry and government need to work on together to achieve Iceland's emissions reduction target, Árnason said, adding that the IceFish exhibition "provides an important opportunity" to present and monitor the latest developments in energy issues in the seafood sector and how vessel manufacturers and designers, as well as equipment manufacturers are responding.
"The challenges in this sector are many and the government must also ensure that the interests of the Icelandic fisheries sector are protected at an international level.
"I believe the sustainable management of stocks to be a core interest of the Icelandic fisheries sector and that we must all act accordingly.
"By nurturing the strength of Icelandic fisheries, the utilisation of fish stocks, the fisheries management system and the strong cooperation of the seafood and technology sectors, the value of the sector and related industries can double in the next decade," he said.