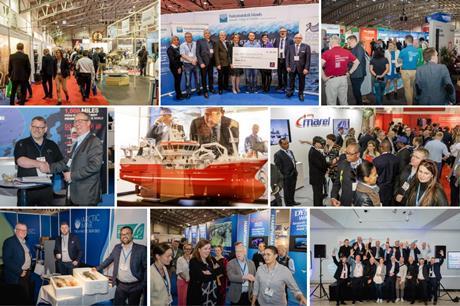 The Icelandic Fisheries Exhibition and Awards returns to Kópavogur (just outside Reykjavik, Iceland) on 18-20 September 2024.
The show, dubbed Icefish, started in 1984 and is the only established professional fishing and processing exhibition to only be held every 3 years*. This has helped exhibiting companies to have new technologies, products and services to showcase at each event which, in turn, means visitors know they can rely on the exhibition to keep them informed of new developments from across the Icelandic and International market.
The 2022 Icefish was the 13th in the series and was the first international exhibition to be held in Iceland emerging from the Covid Pandemic. Parts of the World continued to be under lock down regulations or travel ban. The exhibition still attracted just under 10,000 exhibitors from Iceland and 40 other countries.
The Icelandic Fisheries Exhibition, is much more than just an exhibition, and boasts tandem events such as, the popular Fishwaste for Profit Conference, now coming up to its 5th edition, the 9th Icelandic Fisheries Awards recognising excellence in the Icelandic and Global fishing, aquaculture and seafood sector plus matchmaking meetings.
Inward missions are being co-ordinated in conjunction with the exhibiting companies and several embassies host receptions during the show days.
The Icefish exhibition covers every aspect of the commercial fishing, processing and aquaculture sector, and is rapidly expanding into the value added and byproduct areas.
If you are interested in exhibiting, sponsoring or attending please contact +44 01329 825 335/email info@icefish.is or return this form
*prior to Covid in 2020
Demographics of the 2022 Icefish attendees below: