Although Iceland is at the forefront of seafood innovation, much more is needed from the industry and its supporters in order to continue to thrive, according to the Icelandic Minister of Food, Fisheries and Agriculture Svandís Svavarsdóttir.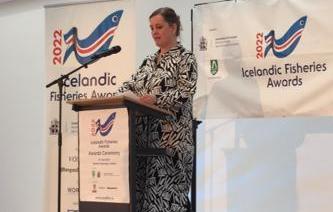 Speaking at the 8th Icelandic Fisheries Awards that took place on 8 June 2022, at the end of the first day of the Icelandic Fisheries Exhibition, Svavarsdóttir said that while industry innovation has been backed through funding, including the government's own increased investment in recent years, it must also be given the "right environment" where entrepreneurs can test out new ideas and where companies have "the strength and courage" to trial and implement them.
"And us politicians must lay down the vision and legislation that moves us in the direction towards innovation and evolution," she added.
Praising the winners of the 13 IceFish awards, Svavarsdóttir said, "The awards recipients here demonstrate how vibrant and innovative the seafood sector is – responsive to new challenges and continuously striving for better value creation.
"Awards like those given here should encourage companies and innovators to look for and test out new ideas."
The minister also said the Covid pandemic had "clearly shown" the importance of the seafood sector to Iceland.
"When many integral parts of the economy suffered, the fishing industry was flexible and able to adjust to new and demanding circumstances.
"With the goal set for 100% exploitation of the catch, new streams of value have been generated – that goes both for processing and technologies like water quality and super-cooling. These technologies enable the companies to export better quality products to foreign markets."
She highlighted that the processing of fish skins into products for the medical field is a prime example of new technology that has generated new value.
"The key to success is, however, to aim for the sustainable management of this vital resource. Today, we celebrate World Oceans Day – to remind us that we need a new approach in our relationship with the marine environment. Therefore, all of our grand plans regarding the marine resource must be based on the fact that we have no time to lose," she said.