Taking place between 16-18 November 2021, Icefish Connect welcomed back registered attendees and exhibitors for the final day of the virtual exhibition!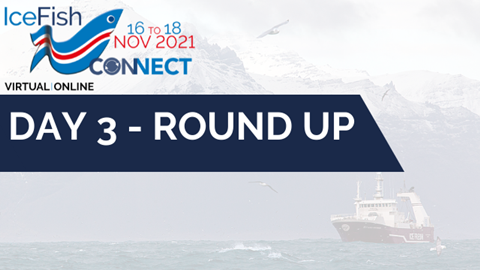 DAY 3 ROUND UP:

- Women in Seafood - Attendees heard the progress made by the Women in Seafood Industry (WSI) since its formation and launch at Icefish in 2017. Attendees were able to join the discussion and learn about new initiatives and innovations in finance and banking that support women and sustainability. Speakers included: Camille Cherques, Head of Programs at WSI and Kristrun Tinna Gunnarsdottir, Head of Strategy and Sustainability at Islandbanki.
Camille Cherques specifically spoke in regards to the work and education the Women in Seafood Industry (WSI) have been completing and highlighted a number of research statistics including 'within the 67 top seafood companies, 90% of directors are men and in the top 100, only 1 CEO is a woman.' Camille Cherques concluded the presentation with a number of key take away messages including 'It's a complex issue which requires experts, awareness, training and education.'
- The Blue Economy - The worldwide ocean economy is valued at around US$1.5 trillion per year, resulting in the 'Blue Economy' gaining momentum for a better stewardship and inclusivity of our oceans and 'blue' resources. The panel discussed how this can be structured to benefit the masses and provided their view on the potential from a global, to regional to an investment view point.
Our panel of experts included: Nick Lambert - Director & Co-Founder, NLA International Ltd, Árni M Mathiesen - Senior Advisor, Iceland Ocean Cluster, Árni Páll Einarsson - Chief Commercial Officer, Matorka EHF and Helga Sigurrós Valgeirsdottir - Senior Account Manager - Corporate & Investment Banking, Arion Banki.
"Aquaculture will continue to grow both here and elsewhere," predicted Árni Páll Einarsson, commenting that this is a key element of the production of the healthy and nutritious food the world needs.
"We can expect to see land-based and offshore farming grow. Traditional fish farming is also here to stay and will improve its environmental record, so we are going to see a mix of production systems."

- Xpectrum - Digital tools to enhance quality and authenticity in food & retail Simon Steverlinck, Head of business development, Xpectrum discussed the Xpectrum created, handheld device, that allows you to create and use models for species detection in fish, fresh or frozen. Simon explained the product replaces DNA analysis, is low cost and 99% accurate.

- Dolav - 'Large Volume Boxes & Pallets' Eirikur Adalsteinsson, CEO, Dolav Plastic Products, offered a key discussion covering the solutions for the Fishing Industry and the latest developments.
All sessions can be viewed on demand by registering on the platform here
Icefish Connect has now drawn to a virtual close after three full days of presentations, demonstrations, discussions and virtual meetings. The 'doors' to content though remain open for another two weeks!
Head over now to IcefishConnect.is, sign in and for the next fourteen days you can catch up or watch again – just click on your selection in the on-demand section of the What's On programme!