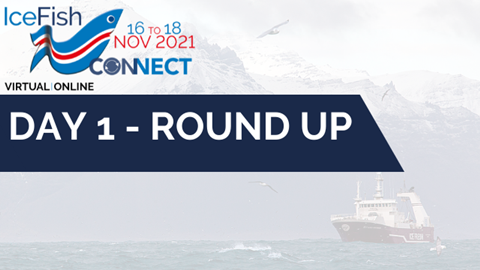 Taking place between 16-18 November 2021, Icefish Connect officially opened yesterday morning and welcomed registered attendees and exhibitors, all ready to network & attend the full conference programme!
DAY 1 ROUND UP
- The 'Fish Waste For Profit - Technology Innovation' session provided valuable insight on the latest technology & focused on the current innovations which are pushing the industry to maximise the processing output and use of all parts of all fish!
Speakers, Mehdi Abdollahi of the Chalmers University of Technology in Sweden, Vilhjálmur Jens Árnason of the Iceland Ocean Cluster, Frode Blålid of Nuas Technology and Baader's Dennis Lohmann discussed that the whole chain needs to be involved to make 100% utilisation a reality
- 2021/22 Icelandic Capelin Quota - Birkir Bárðarson, Senior Fisheries Biologist, HAFRO, Marine & Freshwater Research Institute and Árni M Mathiesen Senior Advisor, Iceland Ocean Cluster covered 'What will the biggest quota in 20 year's have on the Icelandic economy and infrastructure including an anticipated 60 Billion ISK Export value. '
- Business Briefings from some of Iceland's Top Tier companies including:
Gudbjorg Heida Gudmundsdottir, Executive Vice President Fish, Marel, who spoke about the company's evolvement from inventing a scale in the 1980's with the university to investment in innovation and the new opportunities technologies are providing for high-speed processing, including artificial intelligence.
Daði Valdimarsson, Managing Director, Sæplast discussed the company's history with supporting the fishing industry and the steps the company are currently taking towards reducing their carbon footprint, commenting 'We are trying to make steps in the right direction, reducing our footprint, and today we have one of our machines running completely on electricity from green energy, and we are the only producer in the world with a machine of this size for rotational moulded products.'
All sessions can be viewed on demand by registering on the platform here
Join us for day 2!
- Learn from The Icelandic Ocean Cluster - a organisation with 10 years of connecting entrepreneurs, businesses and knowledge in the fishing and marine sector! They will discuss ' How to start up a new business and succeed'
- Hear Bronwyn Curtis OBE, Leading international Economist discuss 'Financial Briefing, effects of the Pandemic, inflation, crypto currency and more'
- Fish Waste For Profit - Product Utilisation: Benefit from a discussion on 100% product utilisation and learn from pioneers that are already doing it! This session will explore and prove that fish byproducts can be used for anything from Leather to cod liver oil; rather than being wasted. There is still a way to go, but these pioneers are trailblazing the movement.
It's not too late to schedule meetings with exhibitors, as well as other commercial marine professionals on Icefish Connect!
For more information on Icefish Connect, please contact the team on +44 1329 825335 or email support@icefish.is