The second day of Icefish has seen Maritech, a world leading provider of seafood software, sign a partnership agreement with Brim, Iceland's largest seafood company. Konrad Olavsson of Maritech and Gisli Kristjansson of Brim signed the deal.
Brim is to test the Maritech Eye™ for its white fish processing and production. Maritech Eye™ scans the fish early in the production process, enabling a processor to achieve a more sustainable production due to reduced waste and improved resource productivity.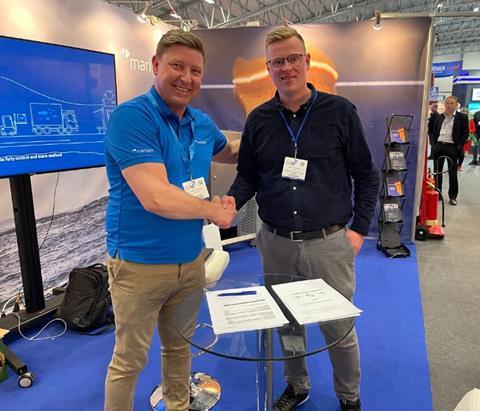 Quality scanning enables allocation premium quality for price premium products, while the rest of the fish can be used optimally in other product segments, improving production planning through fact-based decisions.
Maritech Eye™ for white fish was launched in November 2020, in close cooperation with innovation partners Nofima, NEO/HySpex, Lerøy Norway Seafoods, and Lerøy Havfisk.
With higher precision and far higher speed than a person, Maritech Eye™ can see the quality inside the individual fish. The solution is the only one of its kind in the world; seeing through the skin of white fish and analysing and documenting blood spots in red fish fillets, enabling the grader to sort in industrial speed, while documenting the quality of each unique fish.
Using hyperspectral camera technology, 17 years of scientific research and complex algorithms. Maritech Eye™ gives each fish a unique quality score and ID based on given criteria, documenting the objective quality assessment. The information is sent to the grader as well as to Maritech's LINSiGHT IoT platform for storage and visualization.