Javier Lopez de Lacalle, Managing Director of Foro Maritimo Vasco (the Basque Association of Maritime Industries), meets Iceland's Minister of Fisheries Svandís Svavarsdóttir at the Foro Maritimo Vasco pavilion during the Minister's tour of Icefish.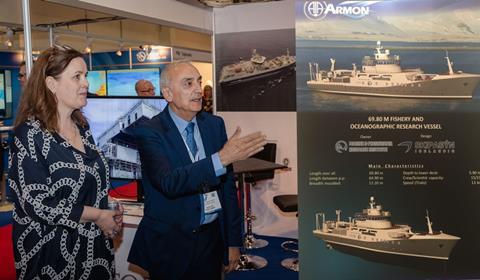 Iceland is looking forward to a new 69.80m Fishery and Oceanographic Research Vessel which will be built by Astilleros Armón, a member company of Foro Maritimo Vasco.
The new vessel has been designed by Skipasýn with the build contract awarded after a three-year design process. Astilleros Armón is one of three Spanish yards that tendered for the build.
The process first started in 2018 when authority to build a replacement for the 60-year-old Bjarni Sæmundsson was given to the Ministry of Fisheries by the Icelandic Parliament. The contract for the new vessel was signed at the end of March by Svandís Svavarsdóttir, Minister of Finance Bjarni Benediktsson, Institute director Thorsteinn Sigurðsson and representatives of Astilleros Armón.
Delivery is expected in the Autumn of 2024.