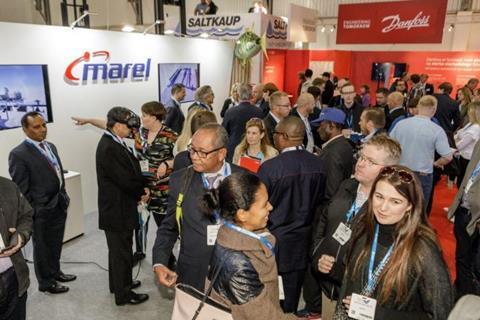 Following many months of pandemic restrictions this June's Icefish will provide exhibitors with the long overdue facility for multiple face to face business meetings in one place. European and Global Vaccination programmes are progressing well, with planned Covid Passports relaxing travel.
Held only once every three years the 13th Icefish will return, 8-10 June 2022, with 80% of the exhibition space already booked.
The last exhibition, held in 2017, saw a 41% increase in overseas exhibitors, this trend continues for 2022 with very strong presence from Turkey, Spain, France, Norway, the Faroe Islands and Lithuania. The 2022 exhibition will also welcome a number of national pavilions including Denmark, the UK and Canada. For the first time there will also be a Spanish national pavilion, representing a large number of shipyards.
The 2022 exhibition welcomes a number of new initiatives including a dedicated area for Processing/Value added/Fish farming and By-products, this is to recognise and reflect industry developments and to align with the 4th edition of the Fish Waste for Profit Conference, taking place on day 2 and 3 of the exhibition. Following the success of 90+ meetings involving 24 countries in 2017; the matchmaking facility, run in conjunction with Innovation Centre Iceland, bringing buyers and sellers together during the show, will also return, further supporting exhibitors/visitors in making key connections at the exhibition.
Much more than an exhibition - Following the postponement from 2020 to 2022 organisers launched Icefish 365, a directory providing exhibitors with a free, enhanced online catalogue entry which includes description, videos, photos, brochures and social media links – plus inclusion in a weekly 365 e-News going out to 14,000+ recipients. This was to provide exposure and visibility to our exhibitors while face to face meetings were restricted.
In addition to this Icefish have also launched a new virtual exhibition and community platform, which will give exhibitors in June a reach, far beyond the face to face experience in the exhibition halls over the 3 show days.
Marianne Rasmussen-Coulling, Events Director, Mercator Media organiser, commented "IceFish has developed into an integral event for companies involved within the Commercial Fishing, Aquaculture and Seafood industry, both within Iceland and internationally. With fishing being such an important part of the Icelandic economy and 35% of the value from exports coming from fish or fish related products, Icefish will be offering an unparalleled platform in a rapid changing World. We are looking forward to connecting with customers."
If you are interested in exhibiting, sponsoring, attending or speaking at 2022 IceFish please call +44 01329 825 335 or email info@icefish.is.
International sales:
Diane Lillo Tel. +44 1329 825 335 or email dlillo@mercatormedia.com
Icelandic sales:
Ómar Már Jónsson Tel: +354 893 8164 omar@icefish.is or Bjarni Thor Jonsson GSM: +354 896 6363 bjarni@icefish.i