The first day of the Fish Waste for profit conference brought together owners and CEOs from the fishing, aquaculture and processing sectors, as well as those in the associated supply chain looking to discover new innovations and industry insights, to develop relations with key industry stakeholders.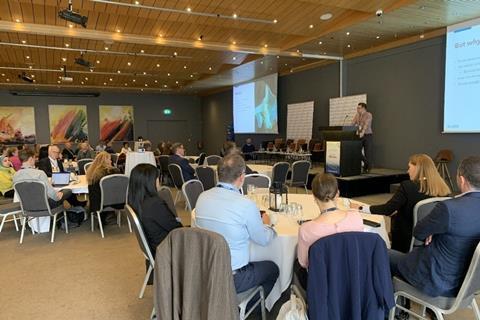 The day opened with a welcome from Rockwell Automation's, team leader software & consultant network security, Mads Laier, who showcased how they are meeting customer needs with flexible manufacturing. This was followed by a keynote address from Jonas R. Vidarsson, Director of division of value creation, Matís and Petter Martin Johannessen, Director General, IFFO both of whom set the scene for the conference day ahead discussing the role of by-products in the circular economy.
Delegates were then taken on a journey exploring two different fish species, crustaceans and Atlantic salmon. Ole Mejholm, Team leader – Corporate Quality, Royal Greenland and Alexandra Leeper, Head of Research and Innovation, Iceland Ocean Cluster gave delegate insights into how these species can be utilised and expand the circular economy.
The first day of the conference ended with a high-profile panel of engineer's bankers and advisors who discussed the lack of investment and funding for individuals and companies who want to expand the circular economy, through purchasing processing equipment, researching or developing existing products. Erlingur Guðleifsson - Engineer, MBA Programme, Davíð Lúðvíksson, Specialist, Rannis, Jón Garðar Guðmundsson, Partner, MAR Advisors and Runólfur Geir Benediktsson, Executive Director, Corporate & Investment Banking discussed how the low funding resources are slowing, not accelerating utilisation of fish by products.