All delegates from the Fish Waste for Profit conference were invited to attend the Iceland Fisheries Exhibition to further enhance their business development opportunities.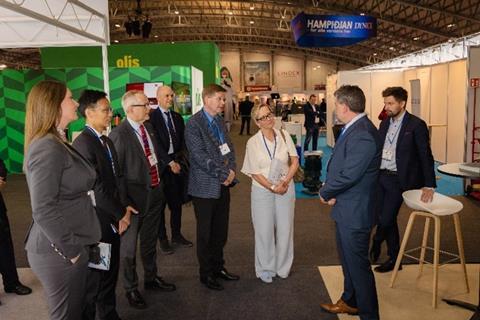 With attendees at the Icelandic Fisheries Exhibition, including shippers, processors, manufacturers, crew, services, fish farmers, and shipbuilders/ designers, delegates were able to continue the discussions at the exhibition and network with key businesses who could aid them in their by-product utilisation journey.
The Icelandic Fisheries Exhibition started in 1984 and, in response to the wishes of the exhibitors, has been held on a three-year cycle ever since. This ensures exhibiting companies have new technologies, products, and services to showcase at each event which, in turn, means visitors know they can rely on the exhibition to keep them informed of new developments from across the market.
The 2022 show was the 13th in the series and saw an encouraging air of optimism as many exhibitors secured large orders, with an attendance of 13,621 visitors from 52 countries.
The Icelandic Fisheries Exhibition 2022 was much more than just an exhibition, hosting the 4th Fish waste for profit; the 8th Icelandic Fisheries Awards and inward delegations were run alongside the exhibition.
The Icefish exhibition covers every aspect of the commercial fishing industry from catching and locating to processing and packaging, right through to marketing and distribution of the final product.