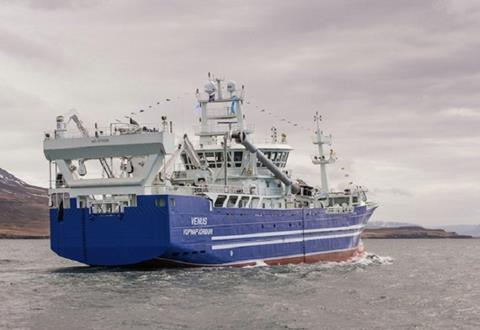 The Icelandic Fisheries Exhibition will take place 18-20 September 2024 at the Smárinn, Fifan Halls Kópavogur, Iceland.
A must-attend event for all commercial fisheries organisations and associated businesses, Icefish hosts the latest developments from the industry showcasing new and innovative products and services, covering every aspect of the commercial fishing industry from catching and locating to processing and packaging, right through to marketing and distribution of the final product.
Around 500 companies, products and brands are showcased over the three days by exhibitors from 22 different countries including Denmark, Norway, and the Faroe Islands.
In 2017 first-time exhibitors were in attendance from around the world including Spain, Turkey, Germany, Peru and Singapore, from businesses including shipyards, netting producers and reduction gear manufacturers, many with a worldwide reputation and track record of supplying the Icelandic fishing industry.
The Icelandic Fisheries Awards will take place on the evening of the opening day of the show, in Gerðarsafn, Kópavogur Art Museum – invitation only.
Websites
We are not responsible for the content of external sites